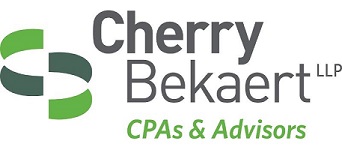 Each month CED spotlights a strategic partner that helps to propel Triangle entrepreneurial companies onto the national stage as successful businesses. This month's Strategic Partner Spotlight is Cherry Bekeart LLP.
About Cherry Bekeart LLP
Cherry Bekaert's THInc practice focuses intently on the Technology, Health and Industrial sectors, to provide innovative solutions to guide growing companies forward. Growth and innovation go hand-in-hand. Cherry Bekaert fullly comprehends how innovation creates disruption and change that can lead to business risk, uncertainty, issues and new opportunities. Companies interested in sustainability and growth can rely on Cherry Bekaert's expertise to guide them forward. Visit us at cbh.com/THInc
Why does Cherry Bekeart LLP support CED as a strategic partner?
Staying ahead of the curve, Cherry Bekaert's THInc professionals are actively engaged with leading organizations that foster innovation and emerging growth-oriented business around the State. Our strategic partnership with CED was cultivated to provide access to the best and brightest companies in the technology space, allowing us to assist them with their growth goals.
How does Cherry Bekeart LLP help North Carolina entrepreneurs?
Ranked among the largest accounting firms in the country, Cherry Bekaert specializes in offering solutions that impact middle market companies' ability to innovate, grow and succeed. For more than 65 years, private equity-backed businesses, global corporations, middle market companies, emerging firms and their executives have relied on Cherry Bekaert to guide them forward as their growth advisor.
What does Cherry Bekeart LLP envision for the future of entrepreneurship?
Cost will continue to be less and less of a barrier to entry as emerging technologies allow for service, retail and software companies to start up with less capital investment. Social media will continue to allow entreprenuers to message their brand and grow their networks more quickly than ever. There will be a continued shift towards entrprenuership and self-organized or managed teams working for a common goal. Contracted work will be much more prevalent, though the most critical aspects of business will always be accomplished face to face (though it may be through a video conference rather than a formal meeting).
Follow Cherry Bekeart LLP:
Is your business committed to helping build a self-sustaining community of entrepreneurship in the Triangle? Join the network as a strategic partner of CED.