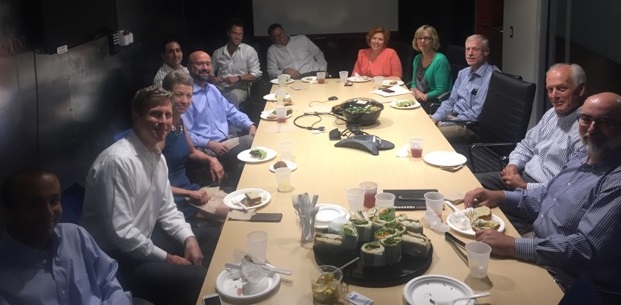 On June 30th, CED hosted investors from South Carolina's Charleston Angel Partners (CHAPS) for a day full of meetings with Triangle entrepreneurial companies. As part of our Connections to Capital program, CED helps curate and facilitate investor introductions to local entrepreneurs. CED's Director of Investor Relations Dhruv Patel manages 300+ investor relationships, including CHAPS, and invites out-of-market investors to visit in-person with NC-based companies at CED's office, even providing access to conference rooms. CHAPS joins a list of other out-of-market investors who have taken advantage of this service including H.I.G. Capital (based in Miami, FL), Tech Square Ventures (based in Atlanta, GA), and Chrysalis Ventures (based in Louisville, KY) to name a few.
John Osborne, CHAPS Executive Administrator, and Paul Williamson, CHAPS Life Science Due Diligence committee chair, traveled to CED's office to form new partnerships with local entrepreneurs and further solidify their presence in the region. This on-site session allowed the CHAPS investors to meet in-person with over ten companies.
"Thanks to our gracious hosts at the CED, we were able to conduct meetings throughout the day and provide catered lunch for those we got the chance to meet with (there were so many to choose from!)," said Osborne. "We were fortunate to get a glance at the successful entrepreneurial ecosystem that CED has fostered over the years and look forward to being a part of the partnerships and initiatives that come through CED in the future."
Founded in 2004, Charleston Angel Partners is the Carolinas' most established angel investment group, with strong ties to the Triangle. CHAPS invests in high-growth tech and life science companies; the angel group has invested in numerous NC-based startups including Baebies, NIRvana Sciences, UVision, and Advanced Liquid Logic (acquired).
"It's fantastic that angel groups outside of North Carolina are finding RTP-based companies to be attractive opportunities," said Russell Thomas, President of NIRvana Sciences. "It's great to see CED facilitating these meet-ups. Simply stated, it takes a village to raise a startup. More investors and more business connections help early-stage companies take flight."
To keep a pulse on NC company updates, John Osborne frequently contacts CED's Dhruv Patel as a deal flow referral partner.
"We believe that meaningful economic impact happens when great people support great ideas, which is the mission that led us to RTP," said Osborne. "We hope to continue strengthening our relationships in RTP and contributing to the thriving startup and investor community."
CED's Connections to Capital program is dedicated to matching investors to companies that fit their specific investment criteria. By managing relationships with 300+ investors and tracking data for 1,800+ NC companies, CED's Dhruv Patel averages 7 curated introductions each week between investors and entrepreneurs. In its first year, the Connections to Capital program has helped six startups raise over $55 million.