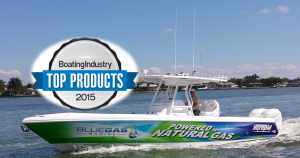 Blue Gas Marine, Inc. has received the 2015 Top Product Award for its revolutionary natural gas hybrid fuel system, from highly respected, Boating Industry. Editors of Boating Industry Magazine selected the 2015 Top Products based on many factors, including innovation, impact on the industry, and how each product advanced its category – or created a new category.
The Blue Gas Marine, Inc. Natural Gas Hybrid Fuel System technology is the first of its kind in the marine industry. This technology is not only revolutionary it is a market creator and disruptive innovation in the marine industry. Blue Gas Marine, Inc. is the first in the nation to offer bi-fuel technology for boats to run on traditional fuel and also on natural gas, separately or together as a hybrid system. This natural gas technology is a new product category on its own, as there are no other products on the market providing this flexibility for customers. The system solves the core/essential problem for boaters—high cost of fuel and maintenance and greatly reduces pollution making it a much cleaner option that did not exist before.
Blue Gas Marine, Inc. President & CEO, Miguel Guerreiro said of the news, "It is great to be recognized by professionals in the industry especially from a publication as respected as Boating Industry Magazine." Guerreiro went on to say, "The Blue Gas Marine Natural Gas Hybrid Fuel system is something we've worked hard to develop to really benefit the world of boating and make a difference where it matters: protecting the environment and the pocket book, by cutting expenses associated with operating and enjoying a boat."
Read the full press release here.