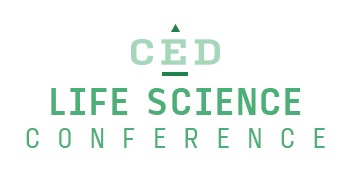 DURHAM, NC – February 8, 2016 – The Council for Entrepreneurial Development (CED), the largest and longest-running entrepreneurial network in the country, today announced that over 50 of North Carolina's most disruptive companies have been selected to demonstrate breakthrough life science innovation at the CED Life Science Conference 2016, March 1-2 in Raleigh. Companies will be exhibiting in the Innovation Room, giving all conference attendees access to network with these emerging entrepreneurs.
"We received over 100 applications from across the state, validating that North Carolina remains a hotbed for life science innovation," said Joan Siefert Rose, President and CEO of CED. "The CED Life Science Conference will showcase companies beyond traditional life science advancement, from crafting devices used by eye surgeons that will improve both the surgeon and patient experience to addressing oncology, genetic disease, and more with genome editing. These are the people right here in our state that are discovering, developing, and creating in order to improve lives in the U.S. and around the world."
Fifteen of the most innovative companies in the region have been chosen to present on the main stage. These showcase companies include:
Achelios Therapeutics: Achelios Therapeutics, Inc. is a Chapel Hill-based specialty pharmaceutical company whose core competency is the reformulation of molecules that have historically been used to treat pain and inflammation. The company's lead product recently completed phase 2a studies demonstrating the efficacy of topical application of NSAIDs in the treatment of acute migraine.
AlphaSyx Therapeutics: AlphaSyx Therapeutics is an emerging biopharmaceutical company developing novel anti-inflammatory medicines that target cholinergic receptors to prevent and treat diseases caused by inflammatory processes.
BioFluidica, Inc.: BioFluidica, Inc. is a diagnostic company that has developed a ground-breaking diagnostic platform for vastly improved cancer disease detection from whole blood samples. The technology can detect and isolate one cancer cell within a blood sample that contains billions of red and white blood cells, thus being able to diagnose cancer through a simple blood test.
Camras Vision: Camras Vision has created the Camras Shunt, a patented device that provides the first-ever personalized pressure control to attain the highest level of efficacy in stopping glaucoma progression. The Camras Shunt provides an unprecedented long-term solution that is bundled in a safe, quick, and simple surgery.
CivaTech Oncology, Inc.: CivaTech Oncology offers cancer patients radiation therapy treatment options that minimize distress, inconvenience, maximize the quality of life and life expectancy. The Company developed and is commercializing innovative polymer-based low-dose rate (LDR) implantable radioactive devices, that will become a new standard of care in treatment of many types of cancers.
Envisia Therapeutics: Envisia is developing novel proprietary polymer-based implants for "front of the eye" and "back of the eye" ophthalmic conditions. The company believes these implants have the potential to treat glaucoma, postoperative inflammation, AMD, DME, and other eye diseases.
Imvere LLC: Imvere is an in-ear wearable technology (not a medical device) that measures head impact and rotation to help medical professionals better detect which athletes need to be evaluated for concussion symptoms.
Innocrin Pharmaceuticals: Innocrin, a privately held pharmaceutical company, was spun-out from Viamet Pharmaceuticals. Innocrin is developing VT-464, a novel, best-in-class dual oral inhibitor and an androgen receptor antagonist that are clinically validated targets for the treatment of castration-resistant prostate cancer (CRPC) and breast cancer.
KeraNetics: KeraNetics is dedicated to providing superior treatment options for advanced wound healing and tissue regeneration for our Wounded Warriors as well as civilian trauma patients. The company was formed in 2008 with the exclusive license of a portfolio of patents developed at the Wake Forest Institute for Regenerative Medicine. The core of KeraNetics' technology is purified keratin proteins.
OncoTAb, Inc.: OncoTAb, Inc. was founded by Mayo Clinic alumna Dr. Pinku Mukherjee, with a mission to improve the quality of cancer care. The company has a worldwide exclusive license to a cutting edge, patent-protected technology platform with cancer diagnostic, imaging and therapeutic applications.
Physcient, Inc.: Physcient develops smarter instruments for surgeons. Through proprietary insights into the mechanics of tissues, the company develops simple, intuitive surgical instruments to replace instruments whose designs are centuries old. Their first product, the Differential Dissector for blunt dissection, has been designed to deliver faster, easier, and safer dissection around critical anatomy.
Precision BioSciences, Inc.: Precision BioSciences is a genome editing company dedicated to improving life. The company seeks to solve significant problems in oncology, genetic disease, agriculture, and beyond via its proprietary ARCUS genome editing platform. Precision was founded in 2006 with intellectual property developed at Duke University and today employs thirty-five in downtown Durham.
Spyryx Biosciences: Spyryx Biosciences is an emerging biotechnology company developing human therapeutics for devastating pulmonary diseases with high unmet medical need. The company's drug development efforts center around novel, inhaled peptides that mimic SPLUNC1's fluid control mechanism in the lung.
Surgilum: Surgilum has a unique advantage in the eye device market in that it is the rare company where the customer, the surgeon, is the inventor/developer. The company has products in the works to change surgical visualization and have products on the market to improve marking a patient pre-operatively.
T3D Therapeutics, Inc.: T3D Therapeutics' mission is to develop its lead drug product candidate, T3D-959, as a potential "First in Class" and "Best in Class" disease-modifying, breakthrough medicine for the treatment of Alzheimer's disease, a drug with the potential to slow, stop or reverse the course of disease.
In addition to the main stage showcase, the Innovation Room will exhibit at least 30 more companies including:
1st Order Pharmaceuticals
Agile Sciences
Arcato Laboratories, Inc.
Baebies
BioKier
BioMedomics, Inc.
Clave Biodesign, Inc.
Dualogics
HealthSpan Diagnostics
HyPerLight
ImmunoReagents, Inc.
Inanovate, Inc
InnAVasc Medical
MAA Laboratories, Inc.
Muses Labs, Inc
NeuroNano Pharma, Inc.
NIRvana Sciences
Oncotide Pharmaceuticals, Inc.
Path BioAnalytics, Inc.
Patrona Medical
PetraLabs
Phononic
Portable Databases
Renovion, Inc.
RiboWiz Scientific
SiNON Therapeutics
Spin-Darc
Trana Discovery, Inc.
Validated Cloud Applications, Inc.
Wellflix Inc
"This conference is one of the most highly-anticipated annual events for our team. I am pleased to return to the conference especially since last year's participation in the Innovation Room facilitated several investor meetings that led to successful investment deals," said Ray Krauss, CEO of Camras Vision. "We are honored to be selected as a Showcase Company for the best opportunity to build on those connections and increase our exposure."
The showcase and demo companies hail from across the state, including: Raleigh, Durham, Chapel Hill, Cary, Hillsborough, Pittsboro, Wilmington, Winston-Salem, Charlotte, Greenville, and the Research Triangle Park, and represent sectors across biotechnology, medical devices, digital health, pharmaceuticals, diagnostics, drug delivery, and AgBio.
And brand new this year, a handful of companies will be utilizing the conference as a platform to publicly release exclusive, newsworthy updates live on the main stage. These select startups will be revealed at the conference.
One thousand attendees including entrepreneurs, investors, university innovators, and corporate leaders are expected at the CED Life Science Conference 2016. The speaker lineup features twenty of the biggest names in the industry including keynote addresses from Troy Brennan (CVS Health), Bob Hugin (Celgene Corporation), and Robert Lefkowitz (Nobel Laureate in Chemistry, 2012).
As emerging companies are breaking through barriers and scaling for success, the CED Life Science Conference 2016 aims to empower entrepreneurs and our life science community with up-to-date learning and new perspectives. The conference provides a stimulating environment that encourages collaboration and fosters key connections that will help propel these breakthrough companies and inspire future discovery. The conference is presented in partnership with the North Carolina Biotechnology Center and the North Carolina Biosciences Organization.
The full conference agenda can be found at: http://www.cednc.org/LSC
As always, CED members receive the best rates. For more information on becoming a member, please visit cednc.org/get-involved/join.