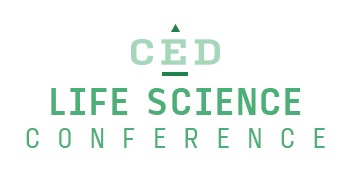 Featured speakers from the Bill & Melinda Gates Foundation, Cardioxyl Pharmaceuticals, Celgene Corporation, Deloitte, Medtronic, Merck, Pzifer, and more
DURHAM, NC – February 24, 2016 – Top industry leaders, investors, and entrepreneurs will converge to explore life science innovation at the Council for Entrepreneurial Development (CED) Life Science Conference, March 1-2 in Raleigh, N.C. The full two-day agenda includes twenty-five speakers covering the latest developments and trends transforming the life science landscape in North Carolina and around the world.
The conference will feature keynote addresses by two of the most celebrated names in life science:
Bob Hugin, Chairman and CEO of Celgene Corporation
Robert J. Lefkowitz, M.D., The Nobel Prize in Chemistry 2012; Investigator, Howard Hughes Medical Institute; James B. Duke Professor of Medicine and Professor of Biochemistry and Chemistry, Duke University Medical Center
During the afternoon of March 1, the agenda breaks into two Innovation Tracks: "Devices & Diagnostics" and "Biotech & Pharma." The Devices & Diagnostics track features a "Fireside Chat" with Richard E. Kuntz, current Senior Vice President and Chief Scientific, Clinical and Regulatory Officer of Medtronic, Inc. The chat will be moderated by William A. Hawkins III, Former Chairman and CEO of Medtronic, Inc.
The Biotech & Pharma track will take place on the main stage with a panel discussion on "Innovative Funding and Partnership Models in Biotech." The panel will be moderated by Jeff Abbey, President and CEO of Argos Therapeutics, and feature:
Karen Akinsanya, Head of Early Scientific Assessment at Merck
Stephen Bloch, General Partner, Canaan Partners
Jimmy Rosen, Venture Capital Deputy Director of the Bill & Melinda Gates Foundation
Barbara Sosnowski, Vice President and Global Head, External R&D Innovation Pharmatherapeutics & WRD External Partnerships at Pfizer
Stephen Bloch said, "North Carolina is one of the top life science clusters in the U.S. Canaan Partners has strong ties to the region and we've made several investments here. The CED Life Science Conference continues to be a great place to find and meet emerging companies in this area."
During the morning of March 2, three of North Carolina's most successful life science companies will share their stories on the main stage. The featured entrepreneurs experienced big exits in 2015, combining for a value of $4 billion across the three companies. The discussion will be moderated by Prabhavathi Fernandes, Founder, President and CEO of Cempra Pharmaceuticals, and include:
Chris Kroeger, CEO of Cardioxyl Pharmaceuticals (acquired for $2 billion by Bristol Myers Squibb)
Robert Ryan, Co-founder and former CEO of Scioderm (acquired for $947 million by Amicus)
Cindy Whitehead, Co-founder and former CEO of Sprout Pharmaceuticals (acquired for $1 billion by Valeant Pharmaceuticals)
Robert Ryan notes, "As an entrepreneur in the Triangle, I have had access to a strong network and valuable resources, including the annual CED Life Science Conference. The local ecosystem supported me in leading Scioderm to a successful acquisition in 2015. This year I am honored to join fellow innovators on stage at the conference to share my journey and further spotlight this region as a top entrepreneurial hub."
Recent additions to the agenda include:
"Transforming Patient Outcomes with Cognitive Computing" with Ashish Cowlagi, Program Director for Watson Health at IBM
"Exponential Technologies and the Future of Healthcare" with Asif Dhar, Chief Health Informatics Officer and Principal at Deloitte Consulting, LLP
The conference concludes on the afternoon of March 2 with the presentation of the Life Science Leadership Award, recognizing an individual who has made a significant impact on the life science community in North Carolina. This year's award recipient is Fred Eshelman, Founder and former CEO of PPD and Founder of Eshelman Ventures LLC.
The full conference agenda can be found at: http://www.cednc.org/LSC
In addition to speakers, over 50 of North Carolina's most disruptive companies have been selected to exhibit in the Innovation Room, giving all conference attendees access to connect with these emerging entrepreneurs during several networking breaks and an evening reception. Fourteen of these entrepreneurs have been chosen as Showcase Companies to pitch on the main stage. The Showcase and Innovation Room companies represent sectors across biotechnology, medical devices, digital health, pharmaceuticals, diagnostics, drug delivery, and AgBio.
"The CED Life Science Conference provides a tremendous opportunity to observe and discuss the realities of growing an entrepreneurial business," said Nate Stasko, President of Novan, Inc. and a former conference Showcase Company. "Emerging companies can share their pathways to success first-hand with investors and peers while also being exposed to the stories and learnings of fellow entrepreneurs. Each journey is different, yet there are common themes of success that the conference aims to highlight."
The CED Life Science Conference 2016 will focus on how entrepreneurs are "Breaking Through" and transforming the life science landscape. One thousand attendees including entrepreneurs, investors, university innovators, and corporate leaders are expected. The conference is presented in partnership with the North Carolina Biotechnology Center and the North Carolina Biosciences Organization.
Additional conference information can be found at: http://www.cednc.org/LSC
As always, CED members receive the best rates. For more information on becoming a member, please visit cednc.org/get-involved/join.
Media interested in attending the conference should contact Emily McLoughlin at emcloughlin@cednc.org or 919-800-7165.