Webinar - Leading Through Uncertain Times
01apr4:00 pm4:45 pmWebinar - Leading Through Uncertain Times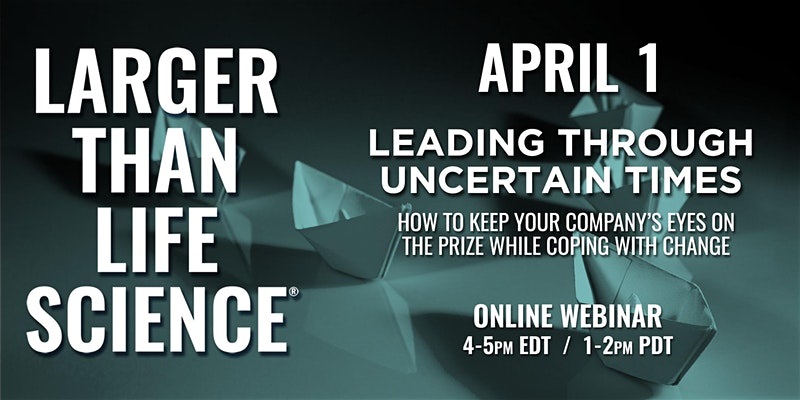 Event Details

Due to public health concerns related to COVID-19, Larger Than Life Science is going virtual. For the first time ever you can join LaunchBio from anywhere in the world to experience our programming for life science entrepreneurs. Our webinars will be live-streaming free on Zoom and made available on our website following the program.

Register today and we'll send you the link to participate.
•••
Leading Through Uncertain Times
How to keep your company's eyes on the prize while coping with change
All the contingency planning in the world probably didn't prepare you and your firm for global economic slowdown and 'shelter in place' orders on multiple continents. Staggered shifts are helping maintain social distance, but your workers with school-age children have no choice but to stay home. How will you keep the company's projects moving forward and meet the challenges we all face on the other side of the coronavirus pandemic? We speak online with three life sciences CEOs about how they're coping with the breakneck pace and scope of change we're experiencing and then invite audience comments and questions.
Speakers:
Deborah Bitterfield, PhD – CEO & Founder, Lindy Biosciences, Inc.
Leslie Loveless – CEO and Head of Recruitment at Slone Partners
Stephen Perry, CEO and Founder of Kymanox
more
Time

(Wednesday) 4:00 pm - 4:45 pm