STATE OF TECHNOLOGY
24jul8:30 am2:30 pmSTATE OF TECHNOLOGY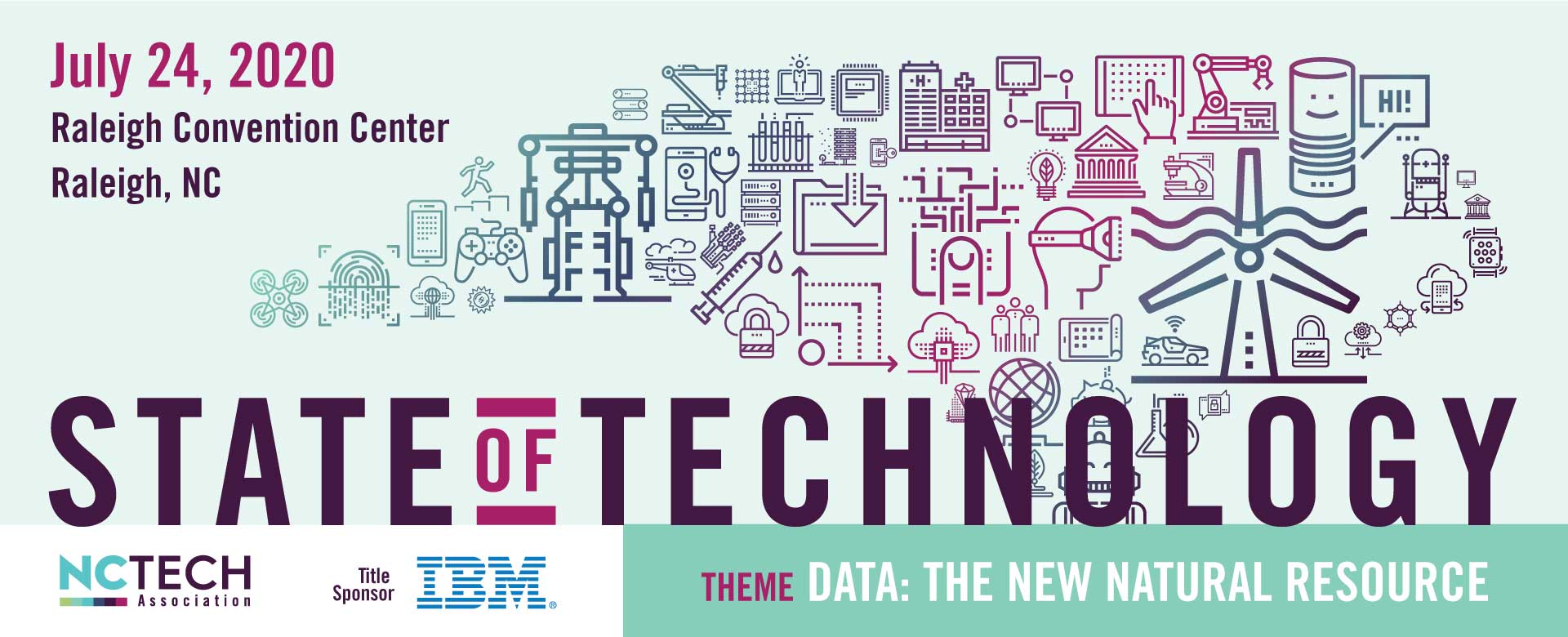 Event Details

Executives from across sectors and functional roles will gather July 24 (New Date) for a day of engaging keynotes, interactive panel discussions, a fast paced pitch competition from tech startups and an Exhibit Showcase.  This year's conference will explore how Data is impacting our lives personally and professionally.

Big data is the digital convergence of structured data found inside databases, and unstructured data flowing from new sources like social networks, mobile devices, sensors, RFID, smart meters and financial systems. Today, organizations can capture and analyze any data, regardless of what type, how much, or how fast it is moving, and make more informed decisions based on that information.

At NC TECH's 2020 State of Technology Conference, we will explore Data as a new natural resource for companies of all sizes and how it is impacting our lives personally and professionally.
BREAKOUT TOPICS
Conspiracy versus Convenience – Your Data Privacy
People, HR and Talent Analytics – How Data Is Impacting Recruiting and Retaining
The Power of Visualization – How Can You Use Data For Executive Storytelling
Bias in Data – How Can We Overcome It?
Data For Good – How Data Can Be Used To Improve Our World
Data Massaging – Let's Strip It Down
TECH STARTUP SHOWCASE
The event will feature a TECH STARTUP SHOWCASE with six innovative North Carolina startups selected to demo/pitch in front of a crowd of 600+ business and technology leaders.  Selected startups must be headquartered in NC with an innovative product or service that is or has the potential to be a standout/groundbreaking technology in the areas of DATA (could include analytics/business intelligence, cloud, data science, security, visualization).The Tech Startup Showcase will be announced soon.
Note: The submission period has ended for both panelists and startups. NC TECH will notify applicants when panels have been assigned and startups chosen.
AGENDA
Friday, July 24
8:30-9 AM: Registration/Exhibit Showcase Opens
9-10:15 AM: Welcome/Opening Keynote Presentation/Startup Showcase l
10:15 AM–12:30 PM: Concurrent Breakout I and II
12:30–1:15 PM: Luncheon
1:15–2:30 PM: Startup Showcase ll/Closing Keynote
(A more detailed agenda will be provided prior to the event)
more
Time

(Friday) 8:30 am - 2:30 pm
Location

Raleigh Convention Center