05dec4:00 pm7:00 pmLarger Than Life Science: Big Holiday Party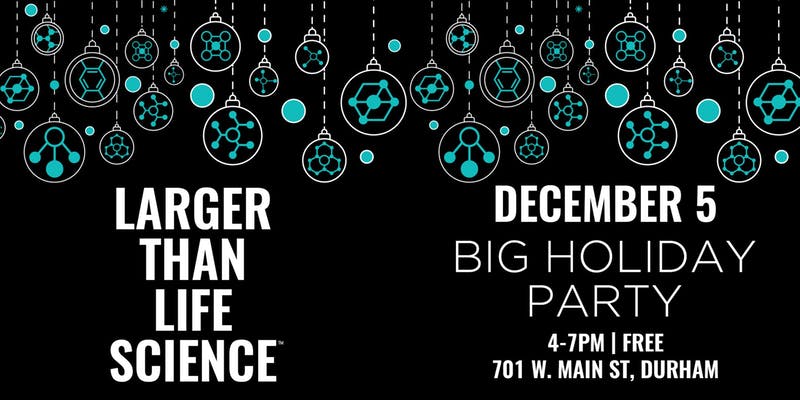 Event Details

A free monthly event open to those interested in building a strong support network for North Carolina's life science & healthcare fields.

About this Event

Come for the people and programs. Stay for a drink. Leave with your next big breakthrough.

Larger Than Life Science is held in the atrium level of the newly renovated Chesterfield Building in downtown Durham from 4-7 p.m. the first Thursday of each month. Join us for an evening of unconventional conversation!

• • •

This month's theme: Big Holiday Party

Ring in the season with us! December 5th is LaunchBio's Big Holiday Party at Larger Than Life Science. This month we're all about partnering, building teams and celebrating our incredible community.

Larger Than Life Science in 2020: Big Ideas for the New Year's programs

We'll be ringing in the New Year — and a new decade — before you know it! We'd like to hear from you on the topics and speakers that are at the top of your holiday wish list, and we'll be asking for your feedback throughout the evening.

4:30-5:15pm | Fireside Chat

Starting Up to Scaling Up: A Fireside Chat with Kymanox Founder Stephen Perry

Join Stephen Perry, CEO of the fast-growing life science solutions company, Kymanox, in a wide-ranging conversation with LaunchBio CEO, Joan Siefert Rose, about starting a company, building a team, and positioning a company for growth. Kymanox has consistently achieved record-breaking annual growth since the company relocated its headquarters to RTP in 2008 with the goal of helping drug, biologic, and medical device companies GET MORE DONE! Stephen Perry was a big hit at Larger Than Life Science earlier this year when he revealed how to be paid what you're worth. Join us to hear more insights on starting and growing a company within the life sciences industry, such as how he manages to his energy level – not his time – and thinks about maintaining the essentials of the company's culture as he recruits new talent and expands to new markets.

5:30-6:30pm | Talk and Poster Session

Pairing Up for Peak Performance: How to Form a Lasting Business Alliance

KBI Biopharma is one of North Carolina's life sciences success stories. The Global Contract Development and Manufacturing Organization (CDMO) serves more than 300 clients to accelerate their drug development programs by delivering process development and FDA compliant manufacturing services. When KBI was looking for a bioreactor to ensure consistent quality and productivity in cell growth, the company selected Sartorius' ambr™ system for high throughput cell culture process development.

The team from KBI will give a talk and present a poster on ambr15 and ambr250 models for use in process development, optimization and process characterization – all part of a drug development lifecycle. KBI has used ambr technology since 2012 and has seen tremendous benefits of leveraging these microbioreactors in their platform workflow. Learn how KBI and Sartorius have built a robust working relationship to ensure seamless service for their customers.
Time

(Thursday) 4:00 pm - 7:00 pm
Location

The Chesterfield

701 W Main Street
Organizer
LaunchBiojoan@launchbio.org