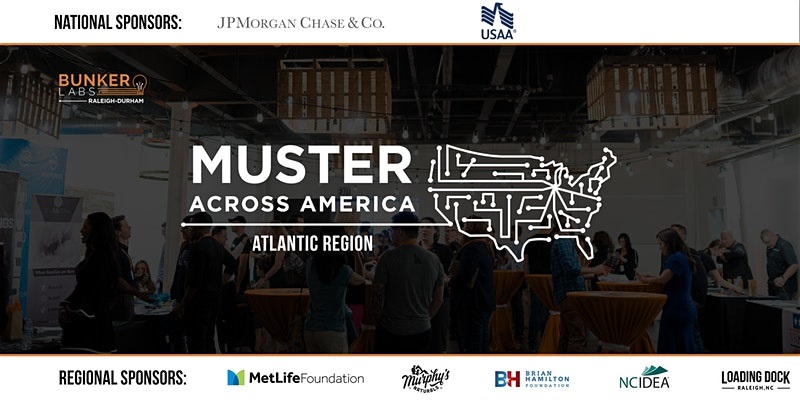 Event Details

This year's program will bring together over 300 participants and partners for a full day of networking, breakouts, keynote speakers, veteran entrepreneurs pitching their businesses, and a Marketplace to showcase opportunities and products from veteran-owned small businesses and companies that support the veteran community.

Bunker Labs is a national network of entrepreneurs founded by military veterans to help other veterans and mil-spouses start and grow businesses. Bunker Labs' Muster Across America Tour 2020 will travel to 6 cities across the country to showcase veteran entrepreneurs and energize local entrepreneurial ecosystems through large-scale events.

Speaker Spotlight

Thom is President and CEO of NC IDEA. He is an entrepreneur, investor, mentor and works with entrepreneurs, governments, universities and NGOs around the world to embrace the entrepreneurial mindset needed to grow vibrant economies.

During his seven-year tenure at the Kauffman Foundation, he directed the Foundation's programs addressing entrepreneurial education, mentoring, access to capital and fostering entrepreneurial ecosystems. Thom also led Kauffman Labs for Enterprise Creation, a school dedicated to advancing community deployed experiential-based entrepreneurial education.

Thom has served on the World Economic Forum's Global Agenda Council for Entrepreneurship, addressed the United Nations Assembly on Entrepreneurship, lectured at conferences around the world and serves on multiple boards including Innovation Fund America and the Kenan Institute of Private Enterprise at the University of North Carolina.

Jen is the CEO of Patriot Boot Camp, a 501(c)(3) serving veterans, service members and military spouse entrepreneurs. She is one of the nation's foremost thought leaders on engaging the military, military spouse and veteran communities. Using more than 15 years of marketing and media experience and the personal experience of being a Navy spouse, she develops outreach programs and authentic content that empowers the lives of service members, veterans, military spouses and beyond.

Prior to Patriot Boot Camp, Jen is the Founder and CEO of Strategic Military Communications, LLC and MilitaryOneClick.com, which provided daily content, online resources, and a social media community for millions of military and veteran families around the world. In less than 3 years, MilitaryOneClick.com went from a bootstrapped idea to rank among the top 20,000 websites in the United States and #3 in the military media industry, while attracting advertising and sponsorships from companies such as USAA, Amazon, General Motors, La Quinta Inns & Suites, MetLife and Starbucks.

Jen is also the creator of MilSpouseFest, the largest series of events for military spouses held across the country that attracts thousands and is sponsored by USAA. Jen oversaw the successful acquisition of MilitaryOneClick and MilSpouseFest in 2015 and remained as the CEO until exiting the company in 2017.

Jen is a proud PBC alumna of the class of 2013 and has the honor of the first PBC alumni company to be acquired. She is also an alumnus of the USAA Influencer Program, Inc. Magazine Military Entrepreneur Program, and a founding Board member of the MyVA Department of Veteran Affairs of Washington D.C.

The Pilchers live in Annapolis, MD where her husband, Ed, remains on active duty with the Navy and is currently "flying a desk" at the Pentagon. They have two children, Katie (16) and Griffin (13) and one lazy bulldog, Grover.

General John W. "Mick" Nicholson, Jr.

General John W. "Mick" Nicholson, Jr. was named president of the PenFed Foundation in April 2019. General Nicholson is a retired United States Army Four-Star General who was the longest-serving commander of U.S. forces in Afghanistan and NATO's Resolute Support Mission.

General Nicholson has dedicated his 36-year career to serving the United States. He earned a Bachelor's of Arts degree in history from Georgetown University, a Bachelor's of Science degree from the United States Military Academy, a Master's degree in Military Art and Science from the School for Advanced Military Studies and a Master's degree in National Security Studies from National Defense University.

General Nicholson has spent much of his career in the interagency arena, working with international organizations, the State Department, law enforcement and national security staff. His previous roles included Deputy Director of the Joint Improvised Explosive Device (IED) Defeat Organization, Director of the Pakistan-Afghanistan Coordination Cell and Deputy Director for Operations on the Joint Staff.

General Nicholson's awards and decorations include the Distinguished Service Medal, Defense Superior Service Medal, Legion of Merit, Bronze Star Medal for Valor, Bronze Star Medal, Defense Meritorious Service Medal, Meritorious Service Medal, NATO Medal, Combat Infantryman's Badge (2nd award), Expert Infantryman's Badge, Master Parachutist Badge, Pathfinder Badge and the Ranger Tab.
Location

MetLife GTO

201 Metlife Way
Organizer
Bunker Labsinfo@bunkerlabs.org