Becoming an Investor Ready Entrepreneur
16jan8:15 am4:30 pmBecoming an Investor Ready Entrepreneur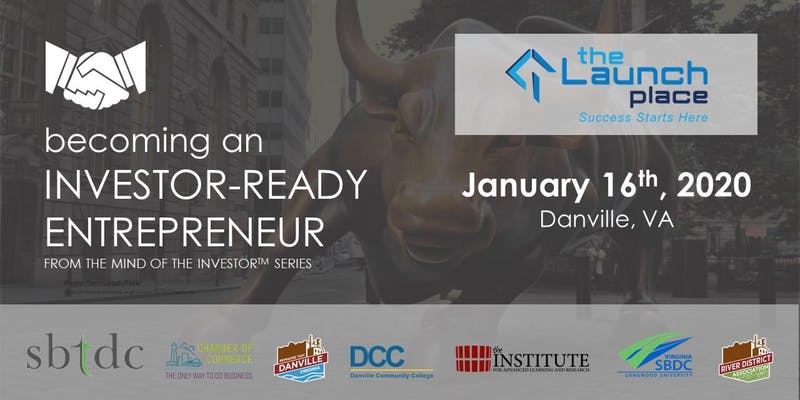 Event Details

The Launch Place will host the NC Small Business and Technology Development Center (SBTDC)'s  "Becoming an Investor-Ready Entrepreneur" workshop on January 16, 2020 in Danville, VA.

Many small businesses need to raise money from investors at some point in their lives.  Are you and your business prepared to take this leap?

Join investors and companies that have successfully raised capital for a full day of discussion.

LEARN ABOUT:
Investor expectations and norms
The equity funding landscape and the key players
How to position your company for a successful raise
How investors approach valuation and structure deals
INVESTOR PANELISTS:
Eva Doss, The Launch Place
Kip Johnson, Morningstar Law Group
Additional investor panelists, TBD
REGISTRATION:
Early-bird Admission $30 (Deadline December 10)
General Admission $50 (After December 10)
Keynote Lunch Speaker:
Rich Brancaccio, CEO Revibe Technologies (The Launch Place's PreSeed Fund portfolio company), will share his experience starting and growing Revibe Technologies including his experience working with investors and raising capital.  Revibe Technologies is on a mission to leverage technology to drive improved outcomes in Focus and Attention for Kids, Parents, Teachers, and Researchers. The Revibe Connect is a Machine Learning-powered wearable that provides personalized vibrations optimized for each user to increase focus, while tracking various metrics (e.g. Attention Span, Fidgeting, etc.) to provide actionable data through historical and predictive analytics. Revibe has begun thoughtfully disrupting behavioral intervention and data collection for schools, parents and clinicians and has improved the educational outcomes of tens of thousands kids across the United States.
About Rich: Rich spent much of his career working as a school psychologist specializing in autism spectrum disorders, serving on several school district autism evaluation teams. Rich is truly passionate about helping children with various difficulties overcome obstacles to attain success. He has personally evaluated hundreds of children with various developmental needs and provided consultation and insight for over one thousand cases.
more
Time

(Thursday) 8:15 am - 4:30 pm
Location

Regional Center for Advanced Technology & Training (RCATT)

121 Slayton Avenue