CED has been fortunate to partner with exceptional resources that contribute to strengthening its support programs for entrepreneurial companies, like the Venture Mentoring Service. We sat down with Barry Borgerson, Lead Mentor to discuss his impact over the last decade.
Why did you gravitate to the Venture Mentoring Service (VMS)?
I was invited to the program by a professional colleague who had started to work with CED on implementing this new resource for early stage companies. At the time, there were only mentors – so truly the beginning of the effort. With my background and experience, it was just what I was looking for in a volunteer role. I could support growing companies and provide mentoring / advice for entrepreneurs.
How does your experience complement this type of work?
I have a Ph.D. in Computer Science, have designed computers and hold patents, and have worked in all levels of business throughout my career. Most notably, I was appointed President & CEO of a midsize venture while it was in a decline and successfully turned it around by developing leadership and improving behaviors that limited its evolution.
Tell us more about your interest in developing people.
Barry has been working on writing a theory around automatic human behavior and how that impacts culture in business. Barry drives transformational coaching concepts. He refers to his earlier style as using "brute force" – we translated that to tough love, looking internally at the personality and behaviors of the leader. Barry plans to spend more time developing theory in the future, a commitment and passion of his for many years. He also will now spend more time on his transformation coaching activities.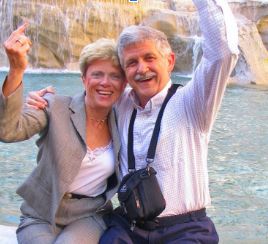 Barry Borgerson will be retiring from VMS this month after 10 years. CED recognizes Barry for the work he accomplished around developing a leadership structure for the program and a detailed training process for lead mentors that is still practiced today, training which improved team outcomes dramatically.
What's your most cherished moment of the program?
Barry shared a great story of a venture he worked with once in its early stages, then again later in its growth. After achieving a successful exit the entrepreneur returned to the program to become a mentor himself. Barry takes pride (well-deserved) in graduating this company twice through VMS. And now, having the opportunity to mentor alongside the former CEO is equally rewarding.
Any words for wisdom for existing mentors and future mentors? "Show-up, follow the process, and keep looking for ways to improve how we deliver our support." said Barry.
CED would like to thank Barry personally for his service, but under the current circumstances we are limited and can't throw him the wild party he deserves! But we do hope you will join us for a toast at a virtual happy hour, July 28th at 4pm. You can sign Barry's retirement book, add a fun memory and RSVP for the event here.