Investing in your founder network
One of the best assets you can have on your journey as a startup founder is a network of founders who are grinding right along with you. Peers can serve as an unbiased sounding board, better yet someone to vent to that completely understands your current challenges.
Building your founder network is real WORK, we get that. And it is hard to find places/spaces to do that, where you aren't being sold something or pitched. CED makes space for this to happen. Makes space for founders to gather, in a casual setting, no agenda, no pitching, just pure support.
The happenings
CED held two founder-only events this month with the intention of creating space for founders to connect and support one another. One that repeats quarterly and a newcomer to our networking mix designed exclusively for female founders.
First up is the Triangle Female Founders Meet-Up that morphed from a conversation that originated on LinkedIn. Local Entrepreneur Scot Wingo along with TBJ Report Lauren Ohnesorge made an ask to the business community to help identify local female founders who should be profiled by TBJ. As a result of those conversations, Kelly Rowell (CED's CEO) was called out to take action on pulling this group together. Ask and you shall receive – she said – less than two weeks later, on May 5th, the group assembled at a local watering hole where new friends were made.
Organic discussions could be heard at all the tables – topics from detecting allergens in milk to creating a platform to promote safety in ride-sharing for women were all fair game! This peer-to-peer connection was invaluable for these women, not to mention a comfortable, safe space to just be themselves.
Our second event is networking is held quarterly in RTP. Why RTP, you ask? Because we find that founders don't really like to travel outside their HQs, be it Raleigh or Durham (we don't play favorites). Hosting in the middle enables founders who live on different sides of the Triangle to meet and everyone makes the I40 sacrifice. This past Wednesday, May 17th, we had over 65 founders come together. We strive for quality, over quantity, which is why this is not a highly publicized event.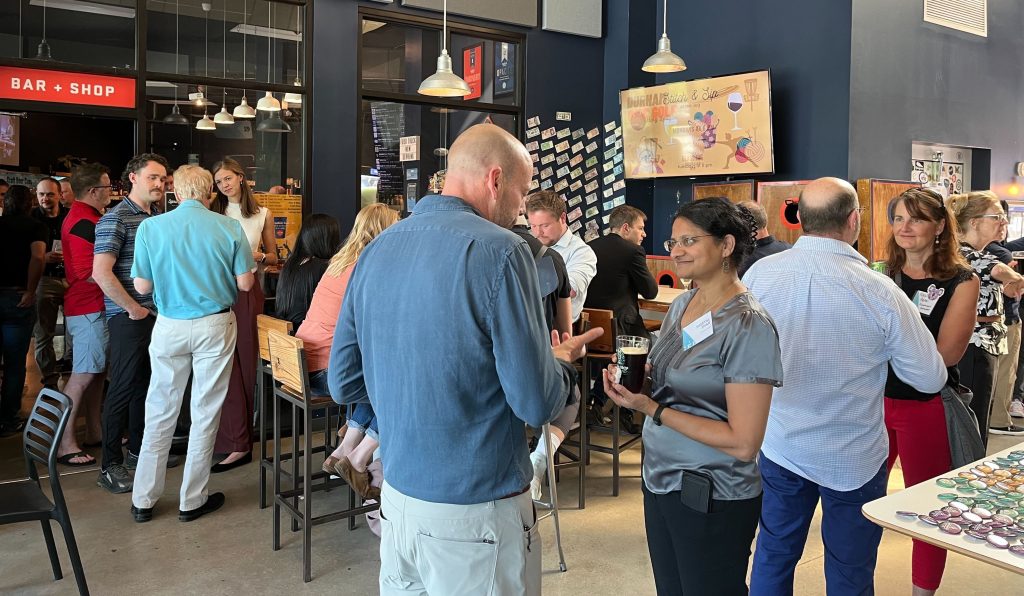 Consistency is Key
Peer networks make us stronger. We all know that the journey of launching and scaling a high-growth venture is demanding, and investing the time to connect with those on a similar journey is an important step!

The pace for these sync-ups is 90 days. Be heads down, get S*%# done, then come celebrate progress with your peers. There is no cost to attend these events, the only prerequisite is that you are a founder building a tech, tech adjacent, or biotech company. If you are the founder/CEO of a startup and want to invest in building your peer network, reach out to Preet.