get the fuel to reach that next milestone 
CED has offered educational events for growing companies for over three decades.  We evaluate what works, what has the most impact on your success, and continue to evolve our offerings to you.  
In 2019, we kicked off a new form of education that is tailored to fit the limited schedules of our entrepreneurial companies.  This series of workshops occur over three days and are designed to appeal to either the CEO/Founder of an early start-up or the expanded leadership team of a growth stage company. We believe that making this learning opportunity accessible to entire team beyond the CEO, just makes sense.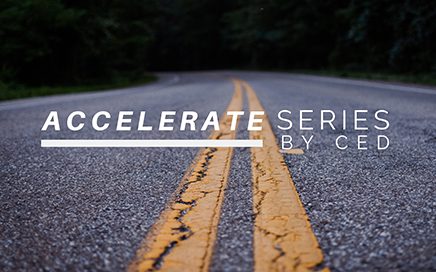 How the Accelerate Series works
Each series, offered semi-annually, is made up of six to nine workshops. These workshops cover critical know-how for the functional areas of your company, like Sales & Marketing, Commercialization, Finance, Fundraising and People Ops.
Each workshop is typically 3-4 hours long and is interactive. That's right, you are going to work and not just fall asleep to another boring lecture. That is why these workshops are not offered live stream. We want you there, doing the work, and guess what here comes another #CEDValueAdd, connecting with your peers in the trenches with you.

Who facilitates these workshops?
These workshops are led by local top-level executives, hand-picked by yours truly. Our facilitators are the brains that have brought startups to the enterprise stage and know a thing or two about what you and your team are going through right now. You can check out our past line-up of facilitators here, if you want to fact-check that we have good talent delivering this content to you.
Partner

Sign-Up

The Accelerate Series has free offerings for the greater entrepreneurial community along with exclusive sessions for our partner companies. If you are already a partner company, sign your team up here.
Non active Partner

Sign-Up

If you are not an active Partner Company, connect with the Customer Experience team to learn more about our free offerings.
#PartnerCompany

I don't have a sales and marketing background, and being in a start-up you find you have to wear a lot of hats. The session on Sales, and Marketing, really helped me think through what it means to market my product, all the way through pitching, sales, and to how you start the phone call. "

#PartnerCompany

The biggest takeaway for me from the Accelerate Series was day one on the Product Launch, regulatory strategies and regulatory considerations were discussed we gained very insightful strategies on how to shift our products regulatory status and engage the FDA in some active dialogue!"

#PartnerCompany

Outsourcing recruiting talent is not helpful for us. I wanted to come to Accelerate Series to learn about the techniques, skills and tools and whatever is needed to help my organization to recruit the best talent. I feel like I got the information I needed attending the session today to help my business"

#PartnerCompany

Compared to other leadership training I've had, I appreciated how she incorporated communication as the underlying vehicle of all of your success. You have to have these other skills, self-awareness, relational awareness, but if you have that and you are unable to communicate then you are not going to be able to communicate"

#PartnerCompany

As a young aspiring entrepreneur trying to break into the industry attending the Accelerate Series has really put things into perspective. It really is a good framework for me moving forward. Focusing on people and company culture is an easy thing to forget and making yourself stop and think about who you are a leader and how you interact with everyone else is really important."