CED Life Science Conference Recap 2018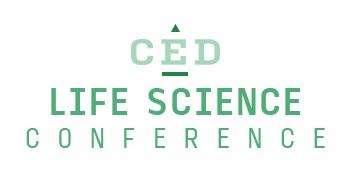 "CED should be so proud of the welcoming, gathering, supportive nature of what it has built. It is the reason this is one of the world's great technology regions."
- Max Wallace, CEO, Accelerate Brain Cancer Cure (ABC²) and recipient of the 2018 Life Science Leadership Award
The CED Life Science Conference 2018 was held February 27-28 in Raleigh, NC. Highlights include:
1,000 attendees between the conference and opening workshops including over 250 entreprenurs and 70 investors
300 one-on-one meetings scheduled through conference partnering software
70 featured companies on the main stage and in the Innovation Room
25 speakers including industry visionaries and highly succesful serial entrepreneurs
NEW Investor Reverse Pitch Lunch exclusively for registered entrepreneurs and investors
VIDEOS - Watch Speakers & Company Presentations including
"Health System Transformation" with Patrick Conway, President and CEO, Blue Cross and Blue Shield of North Carolina
Fireside Chat with Patrick Conway - hosted by Steve Nelson, Co-Founder of Carbon, Inc.
Presentation of the Life Science Leadership Award to Max Wallace, CEO, Accelerate Brain Cancer Cure - introduced by Christy Shaffer, Partner, Hatteras Venture Partners
Lightning Round and Showcase Company Presentations
Links to Conference Coverage:​
WRAL TechWire Profiles of Featured Companies:
Save the Date! CED Life Science Conference Feb 26-27, 2019. Be the first to get Conference Updates. Sign Up for our Newsletter Here.