CED Life Science Conference
Overview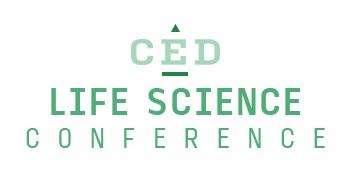 Thanks for joining us in 2018. View the Conference Recap for videos, photos, media coverage, company profiles, and more.
Mark your calendar! CED Life Science Conference 2019 - Feb 26-27. Sign up for our newsletter for details.
See below for past 2018 conference speakers, agenda, featured companies and more.
Life science entrepreneurs are developing innovations that will:
deliver cures and treatments to patients;
deliver efficiency and precision to the healthcare and agriculture industries;
and ultimately deliver a better tomorrow.
The CED Life Science Conference will showcase these innovators while connecting them to investors, partners, and clients to accelerate business growth.
About the Conference
The Council for Entrepreneurial Development is hosting the 27th annual CED Life Science Conference on February 26-27, 2018 in Raleigh, NC. As the premier life science event in the Southeast, the conference attracts nearly 1,000 attendees including trailblazing entrepreneurs, investors, corporate leaders, and industry visionaries from across the nation. This highly-anticipated gathering of the life science community boasts a first-class agenda featuring game-changing thought leadership from keynote speakers and expert panels, showcases the most exciting and innovative NC-based life science companies, and connects these companies to a diverse group of venture capital and corporate investors through high-value networking opportunities including one-on-one partnering software.
The CED Life Science Conference is presented in partnership with the North Carolina Biotechnology Center and NCBIO.